Garage Doors Remotes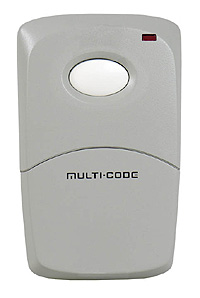 MultiCode Multi-Code 3089 Garage Door or Gate Opener Remote
MultiCode 3089 Garage Door Opener Remote
New freshened up look- contoured oval button remote replaces old one button remote
Multicode garage door opener model 3089 hand held remote control.
300 MHZ Frequency gate or garage door remote transmitter.
Compatible with ALL U.S. Multicode gate or garage door opener systems.
Replaces Multicode model 1089 300MHz 10 Dip Switch Remotes
Multicode 3089 replaces Multi Elmac 3089
10 Dip Switches, one (1) button.
Visor clip, 9V battery and one year warranty included.
Add this item to your cart