Garage Doors Remotes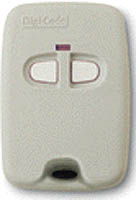 DigiCode DC 5070 300Mhz Two Button Keychain Mini Garage Door Remote Control- Multicode Compatible
Digi-Code DC 5070 300Mhz Two Button Keychain Mini Garage Door Remote Control- Multicode Compatible
Multi-Code compatible 2-button remote control transmitter.
Digital format with 10 dip switches allows 2 sets of 1024 possible code combinations.
Includes heavy duty Eveready 9 Volt battery and built-in LED light to indicate battery strength.
Dimensions are 2 5/8" x 1 3/4" x 1/2". 2 sets of coding switches, one for each door or gate.
Full manufacturer warranty, Made in the USA.
WILL NOT work with Stanley SecureCode opener systems.
Battery, visor clip, and coding instructions included.
Add this item to your cart